Brainspace: The Best Of Tim And Debbie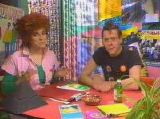 This page contains my choice of the top five Tim and Debbie quotes, in audio and text form. Much of the humour is in the delivery, so be sure to listen to the audio (preferably before reading the text). Netscape Navigator (V3.0) now has an AIFF audio player built-in, so you should have no problem playing the sounds if you're using that.
Return to this page using the arrow button at the bottom of each top-five page.
What do you think of Tim and Debbie? You can let me know using the feedback form.
If you like these quotes, try browsing the
which contains an index of all the Tim and Debbie quotes contained in this web, including text, audio, and some video. You might also wish to read my comment on Tim and Debbie, or take a look at the Brainspace Gallery.
Ross N. Williams, 11 January 1996.



Webmaster
Copyright © Ross N. Williams 1996. All rights reserved.